As a former stockbroker and self described "modern witch", Valerie Schlegel Stettler is a living example of the many different facets women leaders can embody. Today, the One of many Certified Trainer and in-house coach shares her journey to authentic leadership on her own terms, as well giving us a peek into her daily routine…
What do you do?
I'm a leadership coach, facilitator and holistic mentor for women. My focus is helping women take their place in the world for the benefit of all genders. I work with clients on topics like financial knowledge, confidence, inner posture, intuition and joy.
I've always been very intuitive and highly sensitive – what I call my "Cassandra Syndrome". A capacity for "seeing and sensing" things that I now understand has helped me just as much as it has scared the hell out of me when I was very young! I often had a sense of what was right and (mostly) used it to make my decisions, but struggled to explain it in a logical way.
It felt like a part of me needed to be constantly hidden away, that it was not the "right" way to do it and that I could not be "all of me".
In my current life, I am delighted to be able to use this talent and to help my clients connect to their feminine intuition and strengths to embrace all of what/who they are and to powerfully and happily BE in the world.
I'm honored to be a One of many Trainer and in-house Coach. Currently based in Germany, I interact in three languages (English, German and French) and I am looking to grow a local One of many community there.
Give us the big "why" you do what you do?
I was born in a feminist family and was told that I could do anything I wanted to… and so I did!
Before I was 35, I was a managing director at a leading investment bank responsible for a global trading and sales business.
I was working crazy hours and eventually nearly burned out. During this time, I had difficulties conceiving which is not so surprising when you experience that amount of stress and I eventually resigned and left the industry.
I was rewarded with two beautiful children AND this still left a bittersweet taste, as I would have liked to truly have the choice. It also left long-lasting "impressions" on me, at soul and body level. Even after becoming a coach, I would not intervene in financial services, "fearing" what I was projecting as a destructive energy there.
It took release work to lose that fear, and to see the advantages that I was bringing when I allowed myself to facilitate in these environments that I know so well.
This is why I accompany women and also pass on the message to men and companies that it is important to allow for a change in the way women do what they do.
It's also why I was so happy when I discovered One of many. One of many has created such useful tools along with an amazing community of like-minded women. Through the training and deep work, I am living my life at a higher intensity without needing to make up some drama to feel alive. Today, I am truly playing with many keys on the piano and it is fun, powerful, full of love and sustainable!
What's your daily routine?
Each day is a bit different depending on whether I'm facilitating at a company, speaking, delivering a workshop or coaching virtually from home.
My children are almost grown up now, so the morning routine has become pretty simple. On my part, I get up and do my morning pages. This is part of my daily routine and I miss it if I skip it for a couple of days. I observe my brain getting too full and I become unsettled.
I then take my dog for a long walk, shower, and make a point of being at my desk (I work from home) by 9:00 am. I take a break at lunchtime to eat and nap and often go for a shorter walk before getting back to work. I coach 2-3 times a week in the evenings as this is my clients' preferred time – so I make sure to have replenishing time during the day.
What demands do you balance every day in conjunction with your work?
My main "balancing act" is with myself! As I work from home, I have to be very conscious to separate working hours from family hours. I have to develop all sorts of strategies to preserve my working energy mode. It starts when I go to the bathroom and the cat comes purring because he would love a cuddle or some food 🙂 I am now planning on renting an office space, just to increase my concentration and productivity.
How do you juggle all the demands on you?
I have a husband who is absolutely pro-woman, and we share all life admin chores. That was an essential quality for me in a partner, so I probably scared away those who would have wanted it a different way 😀
What I've found to be rare unfortunately, but so important, is that beyond loving me, he has always been very supportive and proud of my professional accomplishments. It is probably our secret: we truly admire each other's successes as much as we support each other when the going gets tough.
How do femininity and Soft Power feature in your business/career?
In my corporate time, I forbid myself to show my feminine side because I wanted to be taken seriously for my work and not for my boobs. That was as exhausting as reductive.
Now, the more I practice being in the PowerType energies the more I feel femininely strong and beautiful.
It gives me a lot of confidence, in a cheeky way and this is important at all ages of course but going now through menopause, becoming a crone, it helps me own it.
I decided to let my hair grow grey naturally a couple of months ago, and not cut it short. It is going to take about three years until the color is grown out. I'm embracing that period as a time of metamorphosis. Just as puberty, you don't fall into it within weeks. It is a long process and if you let it, a beautiful one.
For me, it is more than just appearance, it is taking a stand to encourage others. A twinkle of the eye: "I see you sister!".
Do you think people around you (on social media, and face to face) understand who you authentically are?
I love encouraging my clients to see and embrace "all of them". You are much more than just a mum, or just a lawyer or a banker, or just a woman loving woman or just… the list goes on. We are so many things and this is what makes us so unique. It actually feels so good to be able to show all of oneself, to love all of oneself, to leverage all of oneself…
That can be hard to do "on paper" such as when writing a website, (as I am at the moment!) or on social media.
On the other hand, I also believe people see a lot more of you than you think. I once experienced a training exercise in which people were asked to describe what they saw in you after just a day and a half spent together (we were strangers before). I was amazed by how accurately they described me and how clearly I could describe them!
And this is why it is good and important to be authentic and to allow oneself to be vulnerable – because people see it anyway 😉 Vulnerability is like a little door to our true self, to our heart, where we are good by essence. When we do open that door to others, we allow them to do the same to us.
Do you exercise your #righttobesoft in your workplace? If so, how?
Yes, all the time. I am in soft power when I coach, interact or speak. I do a lot of embodiment which requires me to be in the energy of the PowerTypes, and I love doing this. My clients get so much out of this exercise.
With time, I am more and more consciously connect with the PowerType I want to be in. A couple of days ago, I had a conversation with a person I wanted to get to know "beyond the surface" because she is responsible for a business that might potentially impact mine. I consciously deeply connected to my Lover energy and within minutes she was relaxing and opening up and that allowed me to better judge whether or not I wanted to be involved.
What's one "breakthrough" you have had in your life, that shifted the way you saw things – how did it impact those around you?
A big breakthrough for me was to become a coach. It finally gave me the tools to do what I was doing naturally for years already. It showed me that I could work WITH people and not AGAINST them. In investment banking, it feels like it is always "you against the rest of the world" (the benchmark, your fellow traders, the market, the competition,…). AND it allowed me to use that so important part of me, my intuitive sensitive part.
Thanks so much, Valerie!
About Valerie
Modern witch | Numbers whisperer | Hippo collector
To find out more about Valerie and connect, click the links below:
Facebook page: Full You With Joy
Website: www.valerieschlegel.com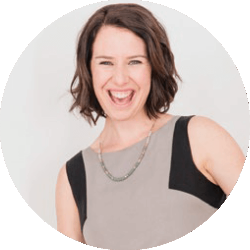 Latest posts by Joanna Martin
(see all)
Comments
comments. If you can't see the comments, please make sure you are not using the Safari browser, and are logged into your Facebook account and have provided consent to the "App and Website Cookies" control in your account.