Are you comfortable talking about finances with the people in your life? Or would you rather share sex tips in a team meeting than another blow-up with your partner about long term savings plans? If you're not sure how to talk about money in a way that feels constructive, empowering and productive, read on. I'm really passionate about this topic, and I want to share my best tips on how to talk about money without it feeling weird.
(Got your own suggestions? Make sure to leave a comment at the end – let's open this up and share what we've learned!)
Before we dive in, let's take a minute to think about why money conversations can feel so awkward. The short answer is – we often have very little experience of money being talked about in a healthy, matter of fact way.
Why you need to know how to talk about money
Many of us don't learn about money until we start earning our own. And more often than not, that "education" comes in the form of an invitation from a "friendly" bank to sign up for a credit card. Before we know it, we're stuck in debt or feel like we're too old to go back to the basics.
(You'd be surprised how many "super successful" women come along to our events and confess they've not got the first clue when it comes to managing their money!)
Here at One of many, we have two motives for wanting to empower women when it comes to money. Firstly, we want you to feel in control of what's happening in your life. If finances are something you feel confused, frightened or overwhelmed about, you're never going to have the impact you're here to.
Secondly, our mission is to change the world. We know that when women are confident to make decisions about budgets, they make excellent decisions. Global research from the World Economic Forum shows women tend to spend more on education, health and nutrition among other positive impacts.  So helping you get your confidence won't just turn things around for you and your family. It will ultimately help us change the world.
An even bigger motivation to move past the awkwardness and start talking about money, right?
So, here are 4 ways to start embracing money conversations and taking back control of your finances:
#1 Take the emotion out of money
When you're feeling riled up or triggered, it's really hard to have a straightforward conversation about any topic. When we run our trainings and retreats around finances, most of the women in the room aren't there because of how much (or how little) money they have in their bank accounts.
They're there because of how those numbers make them feel.
If your finances are connected to your self worth or your sense of fulfilment, it's only natural that having a discussion about joint bank accounts can quickly feel like criticism.
And if you feel secretly ashamed of your financial situation, of course you'll struggle to talk openly about making responsible choices with your kids.
Take some time to reflect on your own relationship with money.
And if you feel like you could do with some extra help, book a call with the office to find out more about our trainings and retreats by clicking here.
Our programmes are designed with women like you in mind. From online training you can work through in your own time to weekend retreats with our extraordinary coaching team, we might well have just the expert support you need to let go of your baggage.
#2 Get clear about your values
Everyone's finances look different. We all have slightly different priorities, and there's no right or wrong way to decide what they are.
Some people really value being able to enjoy small daily pleasures… others delight in giving up their latte habit and seeing the savings add up to a big-ticket spend.
You might be someone who really values careful investing for the long term… or be proud of the percentage of your income you donate to the causes that matter to you.
One of the biggest challenges we can face in money conversations is "justifying" our decisions. That's because a lot of the time we're making choices that aren't really related to our values in a clear way; they're just what we vaguely feel we "should" do, or are habits we've picked up unconsciously.
Getting clear on your values might change the decisions you make about your finances, or you might discover that your current set up aligns perfectly with what matters. Either way, you'll feel a whole lot more confident when your priorities are top of mind, and you know your finances reflect that.
Money conversations are easier when you know what's most important to you, and you're clear on how your saving, spending and investing supports those values.
#3 Be careful of your language
Personally, I've become really conscious of the language I use about money since becoming a parent. It started when James was just a tiny toddler, starting to get interested in shiny coins. "Ooooh!" I'd say, looking at his little handful of clutched change. "Look at all those coins! Clever you, you're so rich!".
Unthinking comments like that started me thinking about what messages I was conveying when I modelled finances for my child. Did I really want him to associate wealth with praise and approval?
But the same applies if you're talking to your friend, boss or partner.
Do you describe yourself as "lucky" to have a salary – even though it's way lower than your male colleagues?
Do you tell your friends "I'm just hopeless with numbers", instead of sharing how frustrated you feel that your partner makes the long-term financial decisions?
And how often do the words "I can't afford it" come out of your mouth, when the truth is "It's not a priority for me right now" would be more accurate?
Language matters. Pay attention to the stories you're telling yourself, and see what might shift in your conversations if you changed the words you use.
#4 Talk about it
The best way to talk about money is to… well… talk about it!
Honestly, I think this is the trick so many of us are missing. We find it hard to talk about money, and so we don't – but that only makes the next conversation more difficult.
Like any taboo subject, it takes a while to feel comfortable talking about something that's not part of your usual repertoire.
Maybe you feel a bit awkward.
Maybe you don't know the answers to the questions your kids have.
Maybe your friend's offended at a question about her pension arrangements, or a well-meaning "check in" with your partner blows up into a row.
It happens. None of us are perfect, and none of us have all the answers.
But the best thing to do in situations where money talk feels hard, is take a deep breath. Acknowledge that this is new ground and that you're trying out a new approach of being more open – laugh about it, if you can!
But keep talking.
Talk to your kids, talk to your friends' kids, talk to your colleagues.
Let's create a world where talking about our finances, including our mistakes and our questions and our desires, is as routine as talking about anything else.
It's time to take the weirdness out of money! Because I think we might actually change the world if we did.
How about you
How do you feel when it comes to talking about money? Are there particular people you struggle to stay objective around, or ways you've found to make the conversation easier? Share your tips in the comments!
Our intention is simple. To support professional women to handle the day-to-day so they can unleash the bigger impact they feel called to make in the world.
We believe real leadership is less about skill, and more about having a well of physical, emotional, intellectual and spiritual strength to draw on. Every week we support thousands of grassroots leaders globally with our free articles, videos and online trainings with powerful tools and methodologies created BY women FOR women.
Become One of many™ women creating strong, meaningful connections in our community.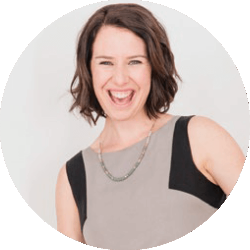 Latest posts by Joanna Martin
(see all)
Comments
comments. If you can't see the comments, please make sure you are not using the Safari browser, and are logged into your Facebook account and have provided consent to the "App and Website Cookies" control in your account.