"You have no right to comment on this, because I didn't raise you as a woman of color!" my mom told me.
All I could do was pause. With that one comment I was left feeling alienated and flabbergasted.
As a woman of color living in the United States, my mom was reeling from the impact of the recent Black Lives Matter protests. Our conversation, which had started as a standard cheerful check-in call, suddenly spiraled into a storm of opinions and emotions.
She did not want to hear what I, her mixed-race, white-passing daughter, had to say.
I found myself hurt and confused after ending our call.
After all, I believe firmly in civil rights and I am passionate about ending injustice and oppression. We're not in disagreement, fundamentally. So why couldn't she listen to my point of view?
It would have been easy for me to get into the defensive. Conversations with our mothers come with so much baggage attached – from their opinions on our life choices, to our inner young adult still wanting to yell "I'm an adult now! Respect me and respect my opinions!"
And yet over the next few days I realised I wasn't the only one feeling that these pent up emotions were being fired in all the wrong directions. Throughout June, I saw many conversations on and offline ending in conflict when people had impassioned opinions that couldn't be appropriately received or resolved.
So today, as one of many women who care, I would like to share some of what's helped me understand communication and intent, as a mixed ethnicity American. I will also be sharing a few mindfulness tips I've learned along the way to help you regain a sense of peace in your life, as well as a few things that can help you positively influence how you receive others and how you project yourself to those around you.
These are challenging times
Since the start of this year things have felt like a never-ending chain of escalation. Every time you see the news there is some new horrific or shocking event happening.
The stressors seem to keep piling on and we are left feeling we're an overflowing dam that is cracking and about to burst. The world is pulsing with humanity's feelings of isolation, fear, anger, desperation, frustration, and depression. Social media and the internet mean we're more connected and able to share those feelings than ever. And with every negative event and emotion, that feeling grows and starts to creep out.
For many of us, recent events have hit all too close to home
When this happens, empathy, which is one of our most distinguishing traits as humans, can sometimes become a double-edged sword. Not a single one of us wants to idle by while those around us suffer. So now, more than ever, we find ourselves manically inspired and ready to take on the world so that we can protect what is most important to us.
But have you ever heard the saying "The road to hell is paved with good intentions"?
In other words, when we lose sight of our values through a feeling of self-righteousness, we sometimes can find ourselves doing or saying things we'd never normally do.
Sometimes our emotions get the best of us. Even if we go into something with the best of intentions, we may find that after an assortment of twists and turns, we lost sight of ourselves or our original goal.
When this happens, it is important to take a step back and re-evaluate ourselves and the situation.
Finding perspective amidst the storm
So, with that all being said, I invite you right now to take a second. Take a deep sigh of relief, relax your shoulders, unclench your fist, straighten your back, centre yourself and give yourself a moment.
As humans we naturally have reactive and proactive natures, so when we spot something that bothers us, it triggers an emotional response and from there we tend to decide our plan of action.
Very rarely is something as simple as going from point A to point B.
We may read A and respond instinctively with B, but then we are triggered by something else to say C and then D, and maybe even go back later to add an E… and so on.
How to stay engaged without losing compassion
A visual exercise I like to use while self-reflecting, is imagining your inner thought process as a tree. Tall, proud, forever growing, ageing, and changing with the seasons. Every branch, leaf, flower, and root of your tree is its own independent thought and the collective information they provide feeds into the trunk and becomes your base.
Instead of trying to focus on every single bit of information each of your branches, leaves, flowers, or roots may be feeding back to you, try focusing on your trunk/core. Whether you focus on them or not does not change the fact that they are a part of you.
For example – how often have you found yourself in conflict with someone, when you realise you're being distracted by the nitty-gritty of what you're talking about?
Maybe you catch yourself arguing the finer points of your cohabiting arrangements with your partner, over exactly who said they'd put the bins out. The issue isn't the missed chore – it's your need to be recognised for the responsibility you take in your partnership.
Or you're deep in debate with a team member, dissecting the semantics of the word "regards" in a discussion about whether or not their email overstepped the mark. It's not really the passive aggressive tone you're discussing – it's your worry that your colleague's commitment to the team is faltering, and that's seeping into external communications.
For me and my mom, our shared goal is to end oppression and find a true sense of equality in the world. The real issue was whether we both want the world to change – and we do.
With that in mind, I realise that becoming defensive about how she expresses that is a tangent. A rattling leaf that misses the trunk of our common values.
Life is a journey, not a battle
So, when you find yourself overwhelmed with emotion, try asking yourself this:
What is the core of what you are looking for?
If you had to choose 1 thought out of a 1000 to sum up your vision or goal within that moment, what would that 1 thought be?
Keep it simple – restrict it to a sentence or two.
Once you have that thought write it down. In my experience, the hardest part of a personal journey is finding your path again when you feel like you have lost your way.
With that practice in mind, when you are approaching someone about something, what is the end goal that you have in mind?
And are you conveying your thoughts from your core or are you getting lost amongst your own branches?
We're trees in a forest
It's near impossible for us to understand every single branch, root, leaf and flower that make up each other's trees. Especially on social media, we rarely have the full picture behind someone's comment. Perhaps they've just received devastating news; had a terrible day; or spent long hours debating this issue with someone in another group.
Maybe, like my mom, they're processing more personal experiences with inequality and suddenly feeling acutely aware of the differences between them and even their closest loved ones.
When a comment or response stings, it can be helpful to step away and take a few breaths. To come back to your "trunk".
Regardless of who we are, or what we believe in, it is important to remember that our end goal is still to harmonise and synchronise with one another. If we did not care we would not be talking at all, and things would never have escalated in the first place.
Going into any conversation, especially around sensitive topics, it's really important that you understand the core of your opinion or decision.
Our challenge is to stay informed and to keep engaging with the topics that we are passionate about, without losing sight of the big change we want to see.
How about you? How do you find calm and purpose when events fire up your emotions? Let us know in the comments.
About Samantha
Animal lover | Food grower | Self taught chef
Samantha McNeill is One of many's resident digital support queen, helping us share our programs, trainings and free resources effectively, efficiently and with ease. She's a devoted pet mom to a small menagerie of rescue dogs and cats, loves geeking out on statistics and analytics, and makes a mean veggie curry. She's a transplant from the US currently living in Hampshire, where she dreams of one day creating a sustainable farm.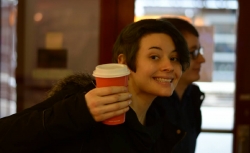 Latest posts by Samantha McNeill
(see all)
Comments
comments. If you can't see the comments, please make sure you are not using the Safari browser, and are logged into your Facebook account and have provided consent to the "App and Website Cookies" control in your account.