If you've experienced trauma of any kind, you know first hand how everything can change in the blink of an eye. It comes in many guises. It could be divorce, or death of a loved one, being made redundant, children leaving home or even a violent crime. For me it was a cancer diagnosis.
Whatever the catalyst, often the feeling is as though you've lost yourself. We get lost in fear and overwhelm, anger and even depression. It can feel like we are spinning out of control, that we are powerless and alone.
At a time when it's so difficult to hold a thought, or have the strength to get out of bed and with our life spiralling, the most important first step is to reclaim a semblance of our strength both physically and emotionally.
The question is how?
My journey to thriving after trauma
As I sat in my oncologist's office, doing my best to focus on his words but in reality just listening to white noise, feeling helpless and hopeless, he said something that snapped me out of my reverie:
"Are you listening to me Katrina? It's really important for you to hear this… your survival is dependant on you seeing this treatment through to the end and it's your responsibility to keep yourself as healthy as possible to be able to do so."
My responsibility. My responsibility.
I kept turning those words over in my mind, at first feeling overwhelmed by them and then the realisation of what was happening.
The very clever oncologist had just shown me the way out of feeling disempowered and hopeless to empowered and knowing how I was going to play my part during this chapter of my life. And my focus was my vitality.
To feel empowered when our world is spinning out of control takes small consistent steps every day. It's those steps that encourage us to get up, get dressed and live our best possible day.
Here are the ten daily rituals that took me from lost and overwhelmed to feeling healthy and strong.
10 rituals to support you when your world turns upside down
Morning pages. On a good day, I wrote my morning pages, processing, ranting, raging, accepting. On a bad day, I focused on the mantra, 'this time shall pass – just keep breathing'.
Gentle exercise. I got outside every day – some days it was a 60 second walk to the gate, a 10 minute rest and then another 60 seconds back. On other days I could walk the 20 minutes to the park, the fresh air in my lungs, my mind focusing on the sky and the trees, feeling the wind on my face.
Wholesome food. Take the chemicals out of your diet and stay hydrated. This part of my vitality plan was most difficult for me as the anti-sickness tablets never worked – I relied on Jo's homemade recipe of 4 parts water, 1 part orange juice and a pinch of salt to keep my dialytes in check and the only food I could keep down were cream crackers, brazil nuts and extra strong mints – the later being my Mum's unsuccessful solution to stop me from being sick.
Allow others to help. A tough lesson for me. At the time, I was an independent corporate woman who knew all the answers. I had no idea how to be vulnerable, to ask for help, to share my fears, to show my real emotions. This chapter in my life shaped me and my relationships forever. By showing my vulnerability and finding the courage to allow loved ones to help, past hurts have been healed, love and acceptance shared, forgiveness given and received. Be brave, be you and accept that love and support from loved ones who are able to give. (That's a whole other blog post – along with the kindness of strangers.)
Mindfulness. Every day find 10 minutes to just sit and breathe. Our breath is our life force and when we are stressed we have a tendency to breath shallow and fast, some of us even hold our breath. These 10 minutes will slow your mind down and bring much needed calm to an anxious mind and body.
Laughter. I guarantee you will laugh again and soon. You will find joy in the smallest of things. The restorative power of a funny film or book, listening to your favourite comedian, crying with laughter after falling down the hole in the bed after radiation treatment and having to be pulled out by two nurses… You will come through this time with moments and memories, stories and wisdom that will replenish you mind, body and soul.
Love. Surround yourself with loved ones who uplift you, support you, bring you cake… the ones who bring normality into your current routine with stories of their days – the ones who don't look at you with pity but remind you of your strength. The ones who make plans with you, who drive you to the beach, who pack blankets and pillows in the car because they know you're going to sleep all the way home…
Gratitude. The quickest and most joyful way to reignite your energy, to warm your heart, to bring clarity and appreciation for life. Whether you write in your journal or allow those thoughts to flow through your body – a few moments every day as a reminder of all you have will boost your vitality and pull you forward towards a brand new day.
Rest. Good quality sleep may be elusive for a while and as it's the corner stone to vitality, you must find a way to rest throughout the day. Whether that's finding time to nap, or allowing others to cook the dinner whilst you have a bath, make sure you prioritise this time. And remember a relaxing wind-down routine at the end of the day can make a huge difference to your ability to fall asleep.
Extra support. Whatever challenge you're facing, or have faced, I highly recommend finding a counsellor or therapist who can help you make sense of it all and help you to heal. Our emotional resilience during any trauma is of upmost importance – it is this that takes us from surviving to thriving. The professional help I had during and after my cancer battle was life changing for me.
It was that safe space, support and the kindness that was shown to me that ignited a passion with me and became the driving force behind my own business as I went on to qualify as a coach, an art therapist and an EFT practitioner so I could support others in their success stories as they too came back to life.
What resources and rituals help you thrive?
These practices made all the difference to me. But I'd love to know your rituals – perhaps something that seems small, but made all the difference when times have been tough.
Share them in the comments below.
About Kat Holden
Kat has 20+ years of professional experience and has worked around the world in the private and public sector.  She knows first hand the challenges that come with working in a highly competitive environment and dealing with stress, overwhelm and imposter syndrome – all the while trying to remain authentic to yourself.
Kat began coaching over 10 years ago.  Her ah-ha moment came during 7 long years of serious illness.  It was then she discovered the power of coaching, personal development and modern psychology.   Unsurprisingly as Kat discovered who she was at her core, healed past traumas and fears, she grew stronger and began to thrive; her happiness and confidence exploded.   
Of course everyone around her wanted to know how this transformation came about including the doctors and specialists who had become an everyday part of life, so in 2014 Kat set up Kat Holden – Life After Cancer – Coaching & Consulting to revolutionise the way we live and work post cancer.    
Today, Kat works as one of the in-house coaches for One of many, alongside her own work where she coaches exceptional people all over the world, helping them to figure out how to define their lives in a positive, healthy and fulfilling way, helping them to discover their best selves and live their very best lives after their battle with cancer.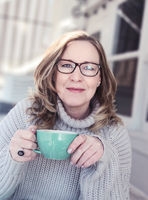 Latest posts by Kat Holden
(see all)
Comments
comments. If you can't see the comments, please make sure you are not using the Safari browser, and are logged into your Facebook account and have provided consent to the "App and Website Cookies" control in your account.