Whether you're in business selling a service or product, are raising money for a cause close to your heart, or just want to sell a vision of a new way of relating to your partner, there's going to be times when the ability to guide and influence others is an important tool in your toolkit.   But if you are like most of the clients I work with then it may be that you struggle with this whole idea of "sales", and in particular the idea of needing to "manipulate" other people to your way of thinking.
And there's a good reason for that. If you're a member of the One of many™ Community then chances are the reason you are "selling" is because you feel called to make a difference to others, or to the wider world, through the work that you do or the impact you want to make.
In other words: You care
Yet the very fact of having this caring nature can itself be a block to you getting that message out confidently enough to make the difference you know you're here to make.
For the rest of this article I'm going to refer to small business owners and their clients because this is the group of people I know best, and who I spend my life serving.   But it can apply to anything you're selling – whether that's a product, a service, a business opportunity, an idea or a vision.
And the question I'm asking today is:
So why is sales so darned difficult when you care?
Because after all, when we really care about our clients and want the best for them then of course we do want them to make that decision to work with us because if they don't we can't help them make the change they so badly want – and we don't get to make our difference in the world.
But the very fact that we do care so much makes sales so much more difficult than it could be.
After all, it's not just about learning a structure.
If it was as easy as the "how to" I wouldn't even have a business!   My clients would have all gone and got themselves some good, old-fashioned style sales training a long time ago and be off merrily "closing sales", "handling objections" and filling up their diaries – long before they even come across me.
Instead it's about all the other "stuff"
A deep-seated suspicion that sales is inherently manipulative, and that's the last thing you want to do to people you care about.
Feeling drawn to want to help people anyway – not just because you've taken their money off them.
Feeling conflicted about whether it's even OK to charge money for helping people – doesn't that make you a "bad" person?
Fear of coming across as pushy because you only want what's best for people and you'd be mortified if anyone thought you were just out for your own gain.
Not valuing your work enough to charge what you are worth or have confident conversations to invite people to work with you – because if you don't believe in it yourself it's hard to sell it with integrity and integrity is important to you.
And I could go on ….
But allowing all this stuff to get in the way means that you are not making a difference to as many people as you could.   This isn't good for your business, and it's definitely not good for your clients.
So here's what you can do to make the process of sales feel more authentic and in alignment with your caring intentions.
Shift your focus on to the client
To help you come at sales from a place of caring one of the most valuable things you can do is get absolutely crystal clear about your "ideal client". Understand his or her pain, problems, desires, fears and emotions in as much detail as you can.   When you do this you can't help form an emotional connection to them.   This means you come to your sales conversations with a fierce desire to help the client, and a focus on what's best for them (rather than what's in it for you).   When this happens something shifts and the sales process starts to feel like another way that you serve the client, rather than the uncomfortable bit you've somehow got to get through before the real work can begin.
Connect with the value
Feeling under pressure to sell is particularly difficult if deep down you are not convinced of the value of the thing you are offering. Your inner voices might whisper "Is it really worth this much?", "What if I can't guarantee a result?", "Am I really good enough to be doing this?" The truth is that if you don't 100% believe in what you're offering then you can't sell it with conviction or integrity.  So it's important to do the work to connect to your value. This might be keeping a special journal where you record your success stories. Maybe even working for free with a couple of people to prove to yourself that you really are great at this (and there's nothing wrong with this – it's how I got started).
Communicate that value
It's possible to be absolutely convinced about the amazing transformation you can help your clients to achieve and know that this work is worth every penny of your fees.   Yet somehow fail to communicate that to your potential client. When you struggle to articulate this difference then it's too easy to fall back on trying to cajole, convince and push people to see what you are seeing. And this feels uncomfortable for everyone. It's really worth taking some time out to work on communicating the value of what you offer in a way that your client will hear loud and clear and really "get it". When that happens there's no need to manipulate – instead you'll hear an excited "yes please!"
Follow a structure.
Without a clear structure it's very hard to take the potential client on a conversational journey that ends with a clear decision to say yes to working with you.   Anything else tends to turn into a meandering conversation without a clear focus – great for hanging out with friends, not so great when you care about making a difference to others.   A structure is what gives you the confidence to be authentic, and to blend in your intuition and compassion. After all it's not enough that you care about the client – they have to feel that you care.   If you want to get started having authentic sales conversations you can take my free short video training "The 7 Steps to Yes!" here.
Finally, here are some ideas to get you started having sales conversations that feel more authentic and comfortable – even when you care:
Schedule some research calls with people who fit your client profile and interview them to help you better understand the problems and challenges that they are facing
Buy a beautiful notebook and start using it to capture all the evidence that you really are brilliant at what you do – testimonials, success stories, passing comments
Write a list of the 10 ways that someone's life could change for the better as a result of working with you
Reach out to follow up with a potential client to give them a gentle nudge to go ahead and work with you – because you care
Learn a structure so that you can start to feel a greater sense control around your sales conversations.   You can get started with my free video training "The 7 Steps to Yes!" .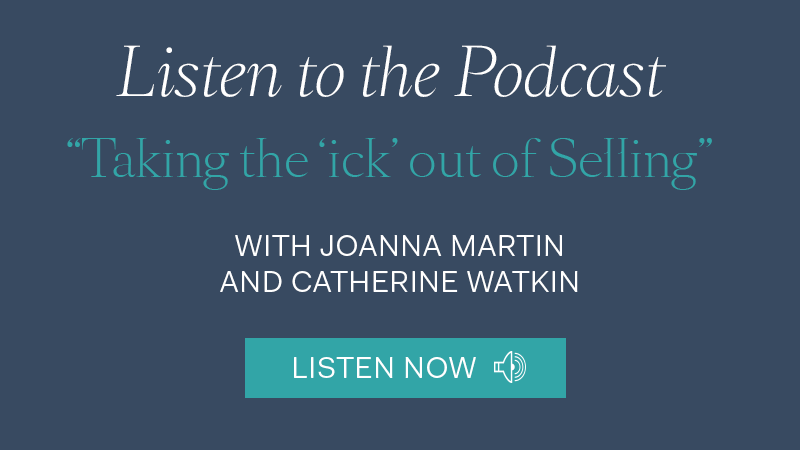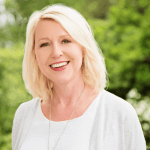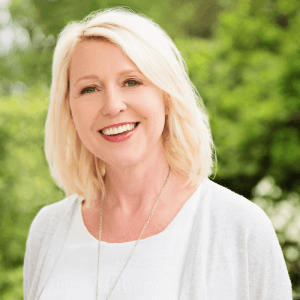 Catherine Watkin works with heart-centred business owners like you, who want a great business but don't want to compromise their integrity. She helps you get more clients saying "Yes Please!" in a way that feels authentic, comfortable and is always in alignment with your values. Catherine believes in sales and marketing that comes from service not selfishness, from caring not coercion, and from love instead of lack.
Our intention is simple. To support professional women to handle the day-to-day so they can unleash the bigger impact they feel called to make in the world.
We believe real leadership is less about skill, and more about having a well of physical, emotional, intellectual and spiritual strength to draw on. Every week we support thousands of grassroots leaders globally with our free articles, videos and online trainings with powerful tools and methodologies created BY women FOR women.
Become One of many™ women creating strong, meaningful connections in our community.

Latest posts by Catherine Watkin
(see all)
Comments
comments