Cat's Story
For as long as I can remember I wanted to make a positive difference in the world. I even started out in my career as a biomedical engineer in Australia, designing aortic stent grafts and literally saving lives! But the problem was… it was boring. I wanted to do something that was exciting and fun.
In looking around at what else I could do I met a graphic designer. Now that was a job that looked like fun. I'd get to make stuff pretty all day and make a living out of it.
It was time to for a change in career
I found a graphic design course that I could take in only 12 months, and broached the idea with my partner Scot. He wasn't entirely thrilled at the idea of me throwing in my high paid job to become a student again, but we agreed that I'd make up for the disparity in earnings in the future.
So, with no time to waste, I quit my engineering career and signed up for the course – thinking that surely this would be all I needed to make it big in the world of graphic design. Huh!
Twelve months later I made a list of top London design agencies I wanted to work for, and with a flimsy qualification in hand, Scot and I sold all our belongings and bought a one-way ticket to the UK.
Excitement. Fame. Fortune. Here I come!
Only thing is that tens of thousands of design graduates turn up in London every year looking for a design job – and most of those have Bachelors degrees. It was a shock to the system, but the situation forced me to get creative with my application process. I carefully targeted the creative directors at my top 10 agencies and sent them postcards of myself outside their door, explaining exactly why I was determined to work for them. Three months after arriving in London, I secured a foot-in-the-door at the agency which had been top of my list.
The cold hard reality
I quickly discovered that graduate designers typically work for minimum wage or 'gulp' for free!
The excitement kept me moving forward, but I had a sinking feeling that it was going to be a LONG time before I could ever make things up financially to Scot. And with the cost of living in London far higher than my income, I moved further and into a feeling of being indebted.
Working at an agency was fun and fast paced. I learnt a lot and got to work with some very prestigious clients. But after a number of years of doing it tight financially, I realised that I was never going to make up the financial gap with a regular agency job.
I turned to freelancing!
With a much higher daily rate, and the freedom to get experience from a range of clients, and change my focus to brand strategy and customer experience, I thought that I was set. But there's nothing that messes with your mind quite like running your own business.
When I was busy things were fine. When I wasn't things weren't so fine. I quickly descended into a desperate cycle of taking whatever work was on offer and working my butt off for several months, and then spending the next few months stressing that I didn't have enough work.
The freelance gig gave me the freedom to travel and make it back to see my family in Australia semi-regularly. But Scot (now my husband) could rarely travel with me because he was working in a full time employed position. He was the one who was being responsible and providing the stability for us. He was being a grown up. Whereas I felt broke all the time. I felt like a fraud, pretending I had my own business, when I my cash flow was so erratic I couldn't be relied upon to pay the rent. It didn't feel great but I had no idea how to change anything.
Money became a taboo subject
Best avoided if you didn't fancy an argument.
In despair, I threw tens of thousands of dollars at personal development and wealth creation seminars. I learnt about property investment, passive income, multi-level-marketing. Basically, anything that might change my situation for me!
I'd leave each event hopeful, but after a few weeks the enthusiasm would fade and all that I was left with was a growing credit card bill.
I decided that the only solution was to work harder.
Work harder and I'll make more money, I rationalised. But as I doggedly pursued more clients, and increase my earnings something else started to nag at me.
The work I was doing was now ENTIRELY about the money!
I wasn't making the sort of positive difference in the world I had always wanted to make. In fact, some would go so far as to stay that my work was actually harming the world – selling people more stuff they don't need, in order to make even more money for the 1%.
I started to make up for my growing sense of guilt, by doing the odd side-project for a cause that I could believe in. Doing good with my work felt so good that I started giving my time away to friends and family for free, afraid to charge for my services.
After all…
You can't do good AND make money.
Or so the voice in my head would tell me.
But there are only so many hours in the day, and when you start spending more of your time working for free, the logical result is that you spend less time doing the work that makes you money.
There had to be another way of doing things?
Faced (yet again) with the same financial frustrations, I found myself registered for the Be Wealth retreat – not really expecting anything to change, but there was something in the idea of a 'Soft Power' approach to wealth that intrigued me.
All those other wealth seminars I'd attended, they'd pump you and challenge you to go out and fight for what you wanted.
I could see that they worked for other people, but that approach just never felt quite right for me. Jo Martin and One of many had made me start to question if maybe the difference was that they were geared around a masculine way of doing things.
What if I could approach things from a more feminine perspective AND still achieve the same results?
I decided to attend with an open mind.
Be Wealth started with an honest and objective look at the facts
Instead of teaching some 'get rich quick' strategy, Jo made us take an honest and objective look at ourselves.
We started by facing the real numbers in our individual money situations. I was amazed to discover that despite feeling like a financial failure, and not always having dependable income, that I had actually earned as much over the last decade as Scot had in his stable and steady job.
It turns out I was doing pretty well with the 'making' money, I was just lacking in follow through with the 'manage' and 'multiply' parts of wealth creation.
Jo also taught us about the four stages of wealth – Stability, Security, Independence and Affluence – and I realised another reason why all those wealth seminars, hadn't worked for me. I was so far in the realm of instability that I hadn't even reached the first stage of wealth yet! You can't just jump straight to financial independence or affluence.
Each stage of wealth builds upon the next, so if I wanted to improve my wealth situation I needed to do the work to progress through each stage. Because as Jo explained, the strategy that gets you to one level is NOT the strategy that will get you to the next level.
It fascinated me that stability is also about accountability – something I was definitely lacking. Scott and I never even spoke about our finances. I immediately knew this had to change.
We explored our beliefs and values
I don't know quite how Jo, Annie and Susie do it but they get right underneath all your programming.
I unpacked the story I had been telling myself about how I didn't care about money. How I believed that it was more important to be making a difference than making money, and that you can't do good AND make money at the same time.
A huge shift for me was when I realised that not caring about money was actually preventing me from making a bigger difference in the world!
I realised that working for free on projects that I believe in was actually harming those projects. I wasn't able to dedicate the time and resources to the projects that they deserved. I wasn't able to help them make the impact that they possibly could have – all because I was afraid to charge money for something that was doing good.
To say this changed everything is an understatement!
I immediately went back home and created a real, bonafide, creative business out of helping solopreneurs with a social mission, build a brand and make a bigger impact.
Within 12 weeks that business had billed £32k… which was more than I had billed in the rest of the year combined. And I was on holiday for one of those months!
I made the decision to take control of my finances, once and for all.
I realised that I had been behaving like a child when it came to finances. I was abdicating responsibility to Scot and that had to stop. We could be a team, but I had to contribute in more than just the 'making' phase.
Importantly if we wanted to create financial stability… and then financial independence, I needed to take responsibility and we needed to start communicating.
Rather than simply wanting to come back and make vague promises, I decided to let my actions speak louder than my words. I started to pay myself a regular wage from my business, and I implemented Jo's jar system.
The massive surge in my regular income, and the carefully implemented money management system, definitely attracted interest from Scot, and paved the way for a very frank conversation about desires, needs and values.
This time something was different. We didn't argue or get emotional. He could hear what I was trying to say. He could see that I was really taking action. He could trust that I was serious.
Less than a week after that conversation, Scot gave notice at the job that had been getting more and more stressful for him. A month later I became the sole breadwinner in our family whilst Scot concentrated on learning to trade the financial markets.
Suddenly I was the strong and stable financial person in our relationship
As Scot focused on learning his new trade, I grew my business – hiring team members and taking on more and more clients who were doing amazing things in the world.
I revelled in the fact that I was really making a positive difference in the world, and supporting my husband to pursue something he enjoyed.
After six months of working side-by-side in our 1 bedroom apartment Scot and I made the decision to take an even bigger leap. We packed up all our belongings, and set off with laptops and backpacks to travel and work as digital nomads. After more than a decade living in the UK far away from our families, it was a joy to spend a summer in Australia with no rush of moving on.
As I write this we are both sitting by a pool in Bali…
Scot watching the markets, as I exchange emails and the occasional skype call with team members plotting how we can better serve our clients and help them make an even bigger difference in the world. It's a joy to empower others to share their messages in a bigger, bolder, brighter way.
There are still real challenges. I'm still only finding my feet in financial stability. And I have a lot to learn as I endeavour to progress on to the next stages of my wealth journey.
But the changes in my life have been so dramatic and phenomenal, and I still need to pinch myself to check that it is real.
It feels cheesy to say that this all wouldn't have happened if I hadn't attended Be Wealth. But for once it feels great not to have had to battle through and learn all my lessons the hard way.
I'm so incredibly grateful to Jo for helping me get unstuck and showing me that there really is a different way.
Let me know in the comments if any of Cat's story resonates with you.
And if you'd love to transform your relationship with money like Cat did then take a look at our upcoming Wealth Insights online training.
It is a 3.5-hour tour-de-force live seminar into what keeps some of us women stuck around money, what millionaire women do differently, and how you can finally set you and your family free.
Our intention is simple. To support professional women to handle the day-to-day so they can unleash the bigger impact they feel called to make in the world.
We believe real leadership is less about skill, and more about having a well of physical, emotional, intellectual and spiritual strength to draw on. Every week we support thousands of grassroots leaders globally with our free articles, videos and online trainings with powerful tools and methodologies created BY women FOR women.
Become One of many™ women creating strong, meaningful connections in our community.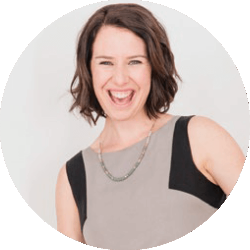 Latest posts by Joanna Martin
(see all)
Comments
comments. If you can't see the comments, please make sure you are not using the Safari browser, and are logged into your Facebook account and have provided consent to the "App and Website Cookies" control in your account.