This week we had a chat with the lovely Karen Haller. Karen was one of our #OneWomanConference sponsors back in November and will be joining us this weekend. She is an internationally renowned business colour and branding expert, an inspirational speaker and colour trainer. She has worked with a number of prestigious brands including Dulux, Orange Mobile, Logitech, 3M Post-it, Pitney Bowes, ColourMatch from Argos and The Peggy Porschen Cake Academy.
1. Why colour branding psychology? What inspired you to work with this particular element of branding?
Businesses are great at writing and saying all the right things but their brand colours so often give a completely different message. I see every business as having an authentic soul, an authentic personality and specialising in colour psychology means I can help businesses align their message and branding so they say the same thing. It's so competitive in business today that branding needs to be more about attracting than promoting and that positive approach inspires me.
2. On your page you said: "For me, working with colour is a magical process. It is about taking the personality of an individual or a business, and drawing out the colours that represent their true identity. I feel blessed to be doing something I truly love."
Can you share a bit about this 'magical process' and some of the highlights and challenges you encounter?
Sure. I work closely with the business owner to uncover their business brand's true identity and personality. One of the challenges is that for some, it's the first time they explore these areas of their business even if they have been in business for years.
When I work with individuals on their own personal colours we spend three hours uncovering their authentic personality so they are able to express who they are on the inside through colour.
3. Can you think of any specific female clients who after your course or consultancy changed their lives and business dramatically for the better? You don't need to share their name etc, just give us a sense of the impact your work had on them.
The feedback I get back from women is inspiring. It's wonderful to read how they really understand why they are in business and what their business truly stands for. They 'fall in love' with their big why and who they are in service for. Their businesses are showing up as who they really are. That way you attract the right customers and clients. I always say colour is your secret salesforce.
It was an absolute joy to work with Joanna on the One of Many brand colours. She instinctively understood the importance wanting to align consciously (the words) and unconsciously (the colours) in the message they were sending out. And it's no surprise the right women, who want to make a change and be the change are showing up in their thousands.
4. In design, in fashion, in web design there are always trends to be followed – does the same apply to colour psychology and branding. Or do you see rather that clients choose their palette and never even adjust that to new trends?
In this context, I see trend colours being the same as wanting to be popular, to fit in, to be accepted. Applying colour psychology is like expressing your authentic personality and wanting others to see the real you. So, no it doesn't apply to colour psychology.
5. What are your career plans for the next 2-3 years?
My future plans are already being realised. I always had a dream to teach colour and I was running colour masterclasses. Then last year I started my Advanced Colour Method training for industry professionals which I'm so excited about. My other dream was to write colour courses for design schools and that's also happening. So the dreams are now manifesting…
6. And finally for our readers – if you could give one advice to all our readers as to how they can change their current choice of colour for better – what would it be and where could they look for more information on the topic?
Colour is an expression of how we are feeling, how we want to feel and how we wish to interact with others. If you're a bit wary of colour or scared of getting it wrong, trust your instincts. Wear colours that you love, that support you and let your true personality shine!
If you'd like to know more then head over to karenhaller.co.uk brimming over with everything you need to know about colour.
7. Who's voice do we need hear and give us One of Many reasons she's amazing?"
The voice One of Many needs to hear is my lifelong friend, Andrea Grimmond. From the time she first took my hand when I arrived at my new primary school aged five, Andrea has lived a life of kindness, compassion and love. Mother to three remarkable sons she is a successful business owner in rural country Australia. Not only is she about to launch another business, she champions women to be the best version of themselves, by being authentic, practising mindfulness and always remaining constantly curious. She would be the last to say she is a super woman, she just finds ways to get around any of life's hurdles with a smile and from a place of gratitude. I nominated Andrea because it's her time to step forward and shine!
Check out Karen's website, chat to her at our #OneWomanConference and stay tuned for an interview with her friend, Andrea.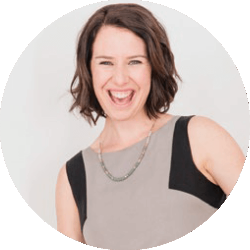 Latest posts by Joanna Martin
(see all)
Comments
comments. If you can't see the comments, please make sure you are not using the Safari browser, and are logged into your Facebook account and have provided consent to the "App and Website Cookies" control in your account.