I always look forward to our wednesday women! So this week I would love you to meet the delightful Louise George. Louise attended the March One Woman Conference, and has become one of our powerful women in our Voices Forum.
It was Louise's interest in the Emma Watson #heforshe campaign that caught my eye, so I asked her if I could have a little virtual "get to know you"…here's our chat, so you can get to know her too!
What do you do?
I'm an actor, presenter and the founder of bodhibabes.com – a blog dedicated to celebrating and supporting women. Through Bodhi Babes I lead Desire Map Workshops and 1-1 sessions: guiding women to uncover their core desired feelings, enabling them to make more powerful decisions and to feel good more often.
Give us the big "why" you do what you do?
Freedom! Every being deserves that.
Give us a daily routine (or a normal day in the life of you)…
My days vary quite a lot, depending on where I am and what I'm working on (acting/ coaching/ workshops). When I don't have clients, castings or acting work booked in I work from home.
My morning routine is important to me, as the way we start our days has a knock on effect. It's usually:
6am up
Write my 'morning pages'
Write my day plan and my core desired feelings in my Desire Map journal
Drink of warm water and lemon
Then 30 mins- 1 hr of exercise: run/ yoga/ niketraining.com, depending on how I'm feeling
Walk my dog 'Troy' if my partner is out early.
 How does femininity and Soft Power feature in your business?
Femininity and soft power are at the forefront of my business and career. My business, Bodhi Babes, is all about celebrating & supporting women, through Desire Map workshops, coaching and my blog. I can be a bit of a tomboy and am quite athletic but I am generally very feminine and lead with soft power in my business and work. Although, my most dominate character archetype is that of a warrioress, so I do flow between yin and yang energies. I am also an actress, so have lots of fun playing with different character archetypes and feminine energy. I am fascinated by non-verbal communication and how our body language can change the way we feel about ourselves and literally changes our biochemistry- how amazing is that!
What is the most common emotion you feel as a woman on a day-to day basis?
Love.
Although my ego can be quite loud, so self doubt and fear can pop up from time to time. I am getting better every day at noticing and silencing those fears. It's a daily practice, which has become more habitual.
 What's the most common emotion you think the man that is closest to you  feels each day?
I would've said my partner feels optimistic. He is always so calm, upbeat and positive. Nothing really fazes him and he takes most things in his stride. I cheated a bit on this question and asked him and he said "excited"!
How do you think tapping into your femininity (playing to your strengths as a woman), impacts your relationships with men?
I first really noticed how much femininity impacts my relationships with men in my mid 20's. I had lost a lot of weight around that time and really grown into being a softer, more feminine woman, after years of being more of a tom-boy and neglecting my femininity. Men (and women) began responding to me differently. If I'm honest, it completely knocked my confidence… I knew how to interact with men as 'one of the boys'. It took me years to understand exactly who I was and to find my confidence again. I had spent most of my life behaving in a way people expected me to behave, without really getting to know myself. Then due to my loss in confidence I began suffering from depression and I was forced to question my place in the world and get to know who I really was. I learned to love myself no matter what. Learning to get comfortable with my femininity and how to use my feminine power has taken time and will continue to evolve during the different stages of my life. I am now comfortable in my own skin and I love being a woman. The key to being able to play to our strengths as women, regardless of how we look and who we are; is having love and respect for ourselves first. When you can do that, people mirror those feelings. People generally reflect back to you what you feel in yourself.
Do you think you people around you (on social media, and face to face) understand who you authentically are?
Yes, I pretty much wear my heart on my sleeve and if anything, I share too much. I try and stay true to myself and am honest with the people around me. I am very confident when I have a 'role' and with people I know well but I am naturally quite shy and I can be a bit quiet in a new group of people or if I feel uncomfortable.
 How important do you think vulnerability is in life and career?
I believe vulnerability is extremely important. We learn the most about ourselves and grow the most when we allow ourselves to be vulnerable and put ourselves outside our comfort zone. Our vulnerability is what makes us human, it is what connects us and when we are vulnerable it gives others 'permission' to also be vulnerable and we are all more authentic. I pretty much live my life in a state of vulnerability, perhaps too much. I am rarely in my comfort zone, as I navigate my way through business and as an actress, to live a life of purpose and aligned with my core-desired feelings.
How do you juggle your relationship and business?
That's actually been one of the most difficult parts of my life in the last 8 years. My partner and I are both self-employed business owners and have also worked together a lot. It can be difficult to draw the line between business and our personal relationship and we've certainly had our ups and downs. It's important to have quality time together, as well as separate and with friends. Finding that balance is key to maintaining a healthy, intimate relationship. It's not always easy and it takes work from both sides to keep the love alive. It's helpful to agree on set boundaries around work and family time and to keep the lines of communication open.
What's one "breakthrough" you have had in your life, that shifted the way you saw things?
Uncovering my core desired feelings and understanding why: knowing how we want to feel is so important, was a game changer for me. My whole life has changed since I've known how I want to feel. Knowing my core desired feelings: gives me inner clarity, which I can match to my external goals, to ensure I am setting them for the right reasons. This has enabled me to make more powerful decisions, with clarity and focus. I am now clear on my "why" and helping others to find theirs through workshops and coaching. I now also feel the way I want to feel more often and don't chase external things to bring me joy- that comes from within… it really does! It's so liberating. I have become a much calmer person and stay more in my softer feminine energies. All of my relationships have improved as a result as I can now be more 'present', without constant distraction of decisions to make and white noise of comparison…. We are all unique and desire different things from life but in striving to meet other people's expectations we can lose ourselves.
 Who have you listened to lately that motivated you to take action on something, anything? And why?
I recently went to a Q&A with Emma Watson on the #HeForShe campaign and she's inspired me to get more involved with the movement towards equality and working more towards helping women rise into their power.
What are you doing to help elevate the women of developing nations?
I have a meeting this week with Action Aid to see how I/ Bodhi Babes can help support them with their work on women's rights worldwide.
Who do you look up to as a woman?
There are so many women I look up to and who inspire me. I have some incredible friends, who support me in all my crazy ideas and adventures and who are out there making a real difference in this world. Most of all I look up to my Mum! My parents are my biggest fans and have always supported and encouraged me in all I do. My Mum is such an inspiration to me, her work ethic is incredible and she always managed to create flow with work, home and family life and make it all look so effortless. I wouldn't be doing what I do now without my Mum instilling in me from an early age that: I could be whoever I wanted to be.
Where do you look for inspiration?
I have become more spiritual in recent years and get inspiration from many places. Nature inspires me most of all and as I mentioned above, I need to retreat to 'the wild' often to re-charge. I meditate regularly, which brings me peace and clarity and I spend a lot of time on personal-development. I have an amazing 'tribe' of friends who inspire me daily, many of whom are coaches and very spiritual themselves. I also take inspiration from amazing women like:
Danielle La Porte (creator of The Desire Map), Gabrielle Bernstein, Marie Forleo, Kris Carr, Rachel MacDonald from In Spaces Between and Tara Bliss- they're all out there living life on purpose, with love and inspiring others to do the same.
What do you tell yourself when times are tough (what's your mantra)?
I am Brave, I am Bold, I am Beautiful.
Who's voice do you think we need to hear in the One of Many Community?
Ebonie Allard – The Entrepreneur Enabler
You can learn more about Louise and her voice here:
Twitter handle: @bodhibabes / @louisetgeorge
Facebook page: facebook.com/bodhibabes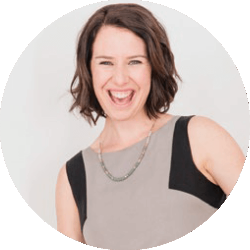 Latest posts by Joanna Martin
(see all)
Comments
comments. If you can't see the comments, please make sure you are not using the Safari browser, and are logged into your Facebook account and have provided consent to the "App and Website Cookies" control in your account.