How often has this happened to you? You're in your successful woman, save-the-world, I-can-do-it-all mode at work. And when you come home, with no chance to shift your energy, you end up running your dinner and evening like it's another quarterly meeting.
No sooner has your partner shared a frustration with their day than you've plotted a strategy, identified the key metrics and asked them to "circle back if they have questions".
Or coming at it from the other direction… you've been really present and relaxed throughout a holiday or a weekend. You go back to work and you just can't get your brain in gear – or summon up the motivation to even open, let alone look at a spreadsheet.
Sound familiar?
A vital life requires polarity
I'm a huge advocate of feminine energy. At One of many we believe it's something that's been missing from leadership for far to long! But I also recognize that there's a time when we need to step into our masculine energy. Find our focus, our ambition, and our active capacity to move towards our vision.
Where things go wrong is when we spend too much time in one energy, or we carry over one type of energy into a setting where we really need the other one.
That's when you get the Mum who runs her dinners like an Army exercise. Or the wife who's irritated with her husband for being passive (without realizing that she's already taken charge of everything in their relationship!)
Many of us have experienced the gradual blurring of boundaries lately. It's easy to see a work email pop up on your phone, for example, or for your kids to interrupt your work if you're at home.
So understanding how to manage your different modes is a critical skill for all of us.
The way to shift your energy

The key to being able to shift your energy to match the context you're in is using something called a "bridging ritual".
As the name suggests, these mini-rituals form a bridge between an activity requiring one activity and another.
Bridging rituals are short, tangible things that you do to signal to yourself that it's time to shift your energy from one mode to another.
By using them, you can make sure that you're in the energy that will let you be the most fruitful in any given situation. Whether that's very masculine, very feminine, or somewhere in between.
And this isn't some sort of woo-woo, spiritually-inclined thing! Studies done on corporate female leaders found that those who do the best have a very solid process in place to manage their energy and those areas of their life that draw on that energy.
You can use them to switch energies in the same context, too.
Maybe you want to introduce a ritual that gently winds down from playing and connecting with your kids, to bedtime. Or to switch from answering emails or making calls, to deep, focused work.
Take a note from those who already practice this!

Unlike those of us with a more universal awareness, some people naturally tend to think in boxes. When they're in the work box, they're thinking about work; when they're in the family box, they're thinking about family; and so on.
Who do you know who seem to be really present with what they're doing?
This means that they also tend to be a little better at shifting their energy to match their setting, often by naturally gravitating to certain rituals without even really realizing what they're doing. In my experience, it's men who seem to demonstrate this skill most.
For instance, my husband Greg's ritual to transition from "home" into "work" involves playing with our son in his office for a while, then pouring himself a glass of water, putting it down on the desk, and opening his computer.
So look at someone in your life who does this and ask yourself what you can learn from them and what kind of rituals you can borrow from them.
Try this
There's no right or wrong type of bridging ritual — you just need to find what works best for you! What I will say is:
It needs to have a distinct end and beginning.
It needs to involve something physical so that your mind really gets the message.
It needs to be something that you can reasonably do every day.
And it may take some experimentation to get yours right! For one of my clients who wanted to transition out of her Superwoman archetype and into her Lover and Queen archetypes, it was taking a bath every day as soon as she got home from work.
For me, it's lighting a different candle when I transition into different modes.
For you, it might be taking a 5 minute walk before you go to work, or listening to a certain song to shift yourself from Mother energy to Lover energy before you go on a date.
So think about what energetic shifts you need to go through during your day, and what rituals you can create around them. Remember, it's all about making lots of tiny changes that add up to change the trajectory of your life!
I'm curious … do you use rituals to transition through your day? Or if you don't yet, what kind of ritual could you start to use? Tell me about it in the comments below!
Our intention is simple. To support professional women to handle the day-to-day so they can unleash the bigger impact they feel called to make in the world.
We believe real leadership is less about skill, and more about having a well of physical, emotional, intellectual and spiritual strength to draw on. Every week we support thousands of grassroots leaders globally with our free articles, videos and online trainings with powerful tools and methodologies created BY women FOR women.
Become One of many™ women creating strong, meaningful connections in our community.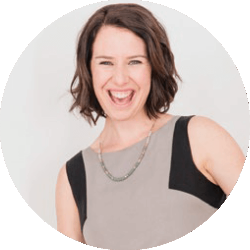 Latest posts by Joanna Martin
(see all)
Comments
comments. If you can't see the comments, please make sure you are not using the Safari browser, and are logged into your Facebook account and have provided consent to the "App and Website Cookies" control in your account.